EQF system allows to equalize tensioning of lift ropes. It has been designed to be extremely compact (sensor thickness of 15 mm), easy to use and versatile. This portable measurement system allows to measure up to 12 ropes simultaneously and it can be used on plastic coated ropes with diameter of 6,5 mm and 8,1 mm.
EQF sensors can be installed on ropes near to each other and on already tensioned ropes without using special tools
EQF sensors are digital and already calibrated by S2Tech. Each one has a built-in high resolution AD converter (20 bit), to reduce possible electrical noises. Each EQF sensor can be connected to an HUB, which works as signal concentrator. It is equipped with rechargeable battery for a long operative range and let measurements available on a software (for PC Windows) or an APP (for smartphone and tablet). Connection to these devices can be realized through USB cable or Bluetooth connection.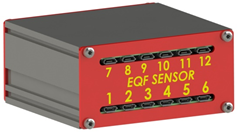 Software and APP are suitable to manage measurements and allow:
to display individual tensions identified on individual ropes (values in engineering units and bar representation)
to indicate the total weight instantly measured
to define a tolerance band on the average tensioning value, with graphic indicators to help the operator during the activity
to display up to date, real-time statistical indicators in order to assist the operator in tensioning equalization operations and calibration references. It gives a report (as PDF file) stating all information related to the result of the equalization operations and calibration references.
Installation Software
As option HUB can be equipped with a triaxial accelerometer, to realize measures related to "Quality of Ride", according to ISO 18738.
EQF system is provided in a case with all accessories:
n. 6, 9 or 12 EQF6,5 sensors for plastic coated ropes with diameter 6,5 mm or EQF8,1 for ropes with diameter of 8,1 mm
n. 1 HUB complete with rechargeable battery (typical autonomy of 1 working day, with 6 sensors)
USB cable and charger for USB devices (PC, Tablet and HUB)
We are working on a new version of the EQF system to measure tensioning even on wire ropes with diameter between 6 and 16 mm.
Applications: 
Beside lift applications, EQF sensors can be used to control tensioning on ropes installed on industrial systems. HUB can be used for portable measurements in industrial, automation or research field.
The sensor is provided with an USB cable, for the maximum quality of connections.
To make an order or to find the best solutions for your requirements, please don't hesitate to contact us at the following email:[email protected]