The EQF measurement system is used to equalize the tension of the ropes of a lift and has been designed to be extremely compact as sensors to be applied on the ropes, extremely simple to use and versatile as well as inexpensive. This portable system makes it possible to measure up to 12 ropes at the same time and was initially designed to be used for the latest plastic ropes with diameters of 6.5 mm or 8.1 mm where the greatest need is perceived for the correct equalization of the ropes' tensioning, in order to comply with manufacturers' requirements and to gain the greatest benefit from using these new ropes.
The EQF series sensors, besides being extremely compact (EQF sensor thickness 15mm) to be installed on plant systems with ropes that are very close to each other such as wheelbases, have the advantage that they can be installed – and removed – on ropes that are already tensioned without having to make use of special tools.
The EQF sensors are digital sensors that have already been calibrated by S2Tech, each with a high resolution (20bit) AD converter built in the transducer in order to boost the measurement quality by reducing any electrical disturbance effects. Each EQF sensor can be freely connected to the HUB, which functions as a signal concentrator (equipped with a rechargeable battery for maximum operational autonomy), and then making measurements available to the Tablet  -supplied as part of the measuring system. The connection to the tablet may be carried out via a USB cable, or by means of an optional Bluetooth connection.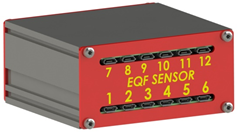 The tablet comes supplied with the pre-installed program that is well suited to managing real-time measurements, with:
display of individual tensions identified on the individual ropes (value in engineering units and representation on a bar, with color codes in order to easily identify the tension status of the rope)
Indication of the total weight measured instantly, with the management of the size ratios and the most common measurement units
Defining a tolerance band on the average tensioning value detected, with graphic indicators that are useful for guiding the installer's work
display of up-to-date real-time statistical indicators in order to assist the operator in tensioning equalization operations and calibration references, for a correct instrumentation management in the quality procedures in the company
preparation, at the end of the activities, of an adequate reporting of the activity carried out, with the saving of a PDF file stating the data of the plant, of the operator and all information related to the result of the equalization operations performed by the Technician, speeding up the technician's work, resulting in time saved and mistakes avoided in transcribing information.
The software installation program for a Windows environment can be downloaded from the following link: Installation Software
The HUB can also be equipped with an optional triaxial accelerometer in order to perform "Quality of Ride" measurements in compliance with ISO 18738. (the software is in the process of being defined, available as an option). The measuring system is supplied in a plastic case containing everything required for the measurements:
6, 9, or 12 5sensors for 6.5 diameter plastic ropes, or EQF8.1 sensors for 8.1 diameter plastic ropes
1 HUB complete with rechargeable battery (autonomy typical of 1 working day, with 6 sensors and fresh battery)
1 Tablet with pre-installed rope tensioning program complete with a manual (PDF, in Italian, German and English) as well as a video for demonstrating the simplicity of installing/removing the sensor from the already tensioned rope (without making use of any additional tool)
USB connection cable and charger for USB devices (tablet and HUB)
We are moreover finishing the development of the EQF16 sensor, which will complement those already available, for the tensioning measurement of wire ropes with diameters from 4 to 16 mm, with direct connection to the HUB / Tablet for the management of the measurements.
Applications:
In addition to lift applications, the sensors can also be used to regulate the tensioning of ropes installed on industrial systems. Moreover, the HUB being equipped with a rechargeable battery and being able to accept the connection to up to 12 sensors, can be used for portable measurement applications – either in the industrial sector or for automation or research – with the range of digital transducers produced by S2Tech, which include load cells, displacement and level transducers, inclinometers and accelerometers and pressure transducers. This measurement solution can also easily be adapted to the aggregation/analysis needs of the acquired measures, in as much as we are able to create personalized applications for Windows® – tablets or notebooks.
| | |
| --- | --- |
| Digital output | |
| Rope diameter and type | plastic rope with 6,5 or 8,1 diameter |
| Rope number | from 1 to 12 |
| Supply | rechargeable battery integrated in the HUB, not replaceable by the User |
Digital Liftsentry system includes:
– 1pcs mod. 699 digital electronics with 4 digits red LEDS display, 4 push buttons for parameter settings, 12/24Vdc/ac power supply, from 0 to ±19mV or from 0 to ±39mV or from 0 to ±80mV differential input channel depending from configurations, 2pcs alarm levels with NC/NO relays, user's friendly calibration menù, error codes for easy servicing and autozeroing function for long term reliability.
– 1pcs beam and car transducer mod. 942 for cabin load measurement
It is also possible to connect different transducers like LT1 load cells.
Options:
– Alarm levels: third alarm with relay for booking and distress signal handling.
– Buzzer: for sound signalling.
– Optical indicator: for signalling the load status in the cabin.
– Relays block when cabin is moving.
– Towed chain compensation.
– Outputs: 0-5V, CANOpen ,RS485 and RS422.
– Accelerometer: for measuring the acceleration and tilt of cabin.
Digital electronics mod. 699:
– Microprocessor electronics with a 4 digits red LEDs display ( high luminosity) and with 4 push buttons for calibration and parameter setting.
Mod. 699 shows the load in engineering units ( Kg, daN, tons etc. ) on display.
Mod. 699 can be sold with a steel flanged case or as a printed circuit with 4 throught fixing holes.
– Easy to use: because of the "user's friendly" calibration menù and because It is possible to calibrate using a specimen weight lower than the maximum lift load capability.
– Easy to service: error messages help to solve installation and service problems ( i.e.: not connected transducer, wrong calibration etc. ).
– Easy electrical connections: screw terminal connector boards and RJ connector are easy to use.
Mod. 699 has all electrical connections numbered for an easy electrical connection.
– Power supply: a 12 or 24V DC and AC power supply allow to apply the 699 without taking care of power supply voltage polarity (calibration parameters are not lost in case of black outs)
– Input channel: 1pcs from 0 up to ±80mV differential signal from strain gauge transducers.
– Alarm levels: 2pcs with NO and NC relays outputs. Alarm levels are self adjusting to the maximum load capability of the lift.
– Zeroing function: grants the maximum long term stability reducing thermal and mechanical zero drifts.
Strain link mod. 942:
– Working principle: It measures forces and weights applied on a steel frame by measuring the proportional flexion strain. Mod. 942 mechanically amplify up to 4,3 times the strain on the metal frame.
– Strain gauge bridge: Mod. 942 has a Wheatstone bridge with 4 active measuring arms that allow a good thermal stability.
– Mechanical fixing: Mod. 942 is to be fixed firmly onto the steel metal frane in order to avoid slippings.
– Price: Mod. 942 has been patented because of Its innovative manufacturing process that allows competitive prices.
To make an order or to find the best solutions for your requirements, please don't hesitate to contact us at the following email:[email protected]